We had our mass at 11:00am with apostolic sisters, brothers of Sion and friends of Sion. It was a marvelous day since it was the feast of annunciation and our official entry into the novitiate. We had in our mass three special symbols: a candle, bibles and medals (Virgin of miracle), each novice receive one symbol.
We really enjoyed this shiny day and it was very special, since it is spring time and all creation joined us in this day with beautiful flowers around.
"Sing and rejoice, O daughter Sion! For lo, I will come and dwell in your midst, says the Lord."
(Zech. 2, 10)
Also, we felt quite joyful to entry into our canonical year. It is a special time of being with Jesus
"I am the way, and the truth, and the life".(Jn. 16,6)
and Mary
"Here am I, the servant of the Lord; let it be with me according to your word". (Lk. 1, 38)
On April 4th, 1853 Father Theodoro in his sermon about the feast of annunciation said:
"Here is a phase taken from today's office which I share with you: "Rejoice, all you who love the Lord, because when I was still young and small, I was pleasing to the Most High", says the virgin. Why was she pleasing to the Most High? Because she was humble and always small in her own eyes. She was raised to the dignity in creation simply because she humbled herself so profoundly. Therefore she could say of herself: "The Lord has regarded the lowliness of His handmaid. That is why the Lord has done great things in me". Try to draw God's eyes to you by your humility and remember that without humility, it is impossible to be pleasing to God."(Father Theodoro Book 3, Page. 129).
Mary is our model of life and she is the daughter of Sion "par excellence". She was brave, humble and quiet and she said an unconditional yes.
After the mass, we had a delicious lunch together and a special cake for us and we song happy birthday to Sisters Maureen and Carmen.
We ask to Our Lady of Sion to be with us in this time in our life and that we can discover to love more God and enjoy His manifestation of love in this Land. Also that we can see, feel, live, hear and give birth deeply the Word of God in our life. We thank God for our community and all people who shared with us this time far and near. We really felt their presence and prayers among us.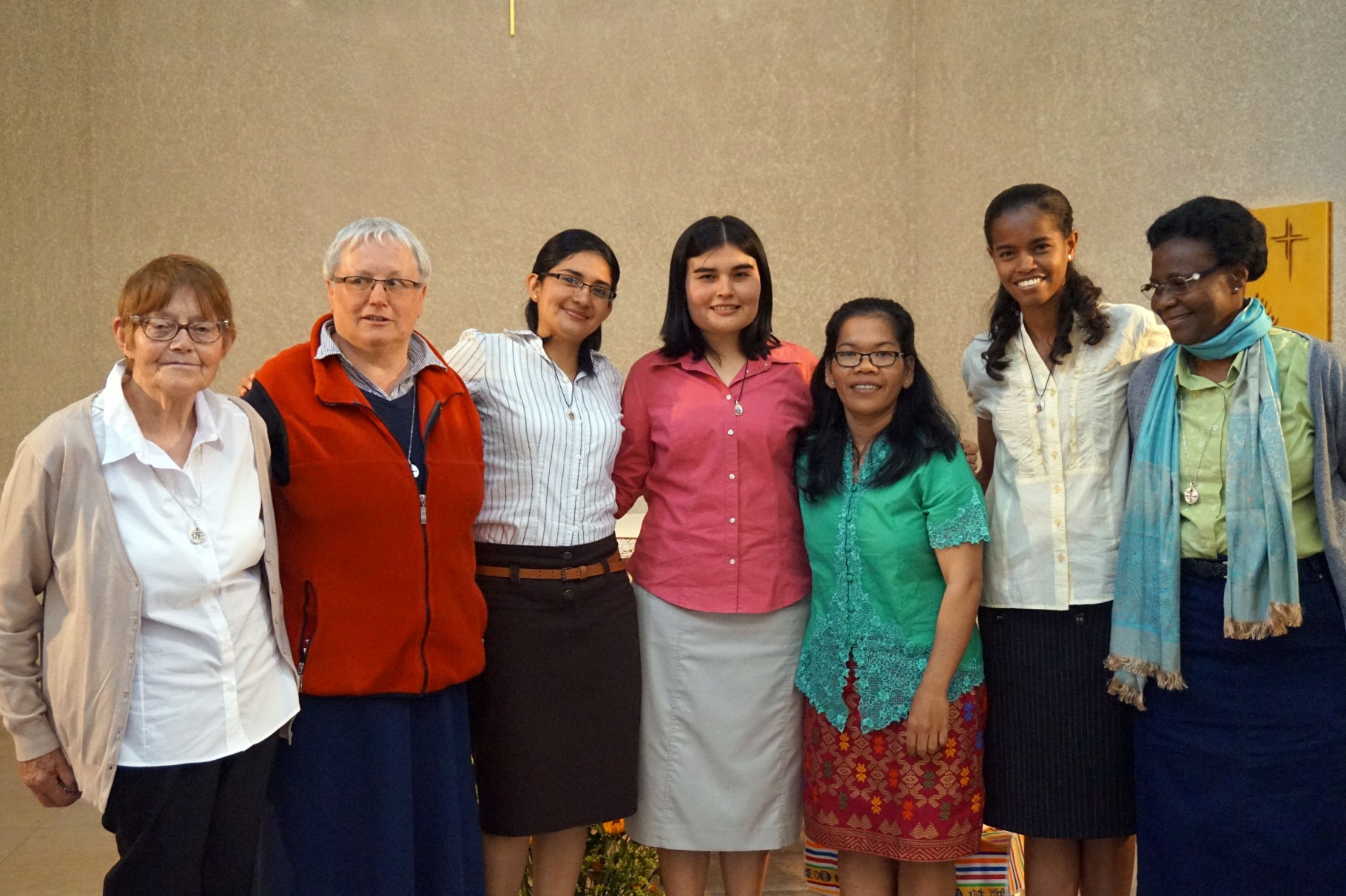 Andrea Chacón Carmona, Novice NDS
Community St. John in Montana
April 6th 2016.